East Bay Regional Forum – Spring 2019
May 15, 2019 @ 11:00 am

-

May 15, 2019 @ 1:30 pm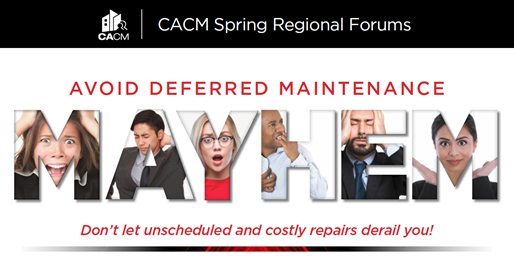 Regional Forum
Date/Time: 5/15/2019 11:00 AM – 5/15/2019 1:30 PM
Venue: Hilton Concord
Address: 1970 Diamond Blvd. – Concord, CA 94520
Avoid
Deferred Maintenance Mayhem! Don't let
unscheduled and costly repairs derail you!

Lead
with professionalism and confidence! Learn
from industry experts who have spent more than 23 years developing a tested and
proven maintenance program. Hear how you
can save your community money and eliminate time consuming tasks from your busy
schedule!
In
this forum, you will learn:
· How
implementing maintenance programs saves big dollars for your HOAs and about the
interrelationship between maintenance matrices, plans, manuals and programs
· The
five major benefits to a relationship with your maintenance provider, including
proud owners and total enlightenment
Register Now